Notes by Virginia Lee, sister of Oliver Newton Lee Jr.
Page 1
Lena Dove Holt Lee
Aug. 28, 1885. Her mother was "Addie" Pickens Holt Jan 14___, died Dec 1915
Ara Adney Pickens
Lena's father was – (Newton's grandfather J.T. (Jesse Thomas) Holt born Wilson County, Tennessee
Born Dec 14, 1840, died May 9th 1917? Maybe father of J.T. Holt was Jesse Washington Holt and mother was Harriet Cole Gregory Holt. He was born in Wilson Co. Tennessee in 1810. She was born Mecklenburg County Virginia in 1816.
Father of Jesse Washington Holt was Jesse Holt born in North Carolina. Died 1845 Wilson Co. Tenn.
Page 2
Mom's maternal great grandfather was John Gregory born Mecklenburg County Virginia and went to Wilson County Tenn about 1819.
His widow died 4 years later. He died when Mrs. Holt was about 3 yrs old A arrow up points to Harriet, Lena's grandmother
Mom's father Jesse Thomas Holt was 2nd of 7 children
In 1859, J.T. Holt married Cassandra L.C., a daughter of William Henry Clay and Repsy Johnson who were born in North Carolina and west Tennessee respectively. In 1853 went to Hempstead County AR. She died in Sevier County AR, 1858. Mrs. Johnson died in Texas, 1880. Mrs. Holt born in Tennessee 1840, died in Arkansas 1874. 6 children Johnny, Jimmy, Jesse (not J.T) Psellus, Charley, Emma
Page 3
At of the page - Newton's grandmother (with line & arrow down to Ara Adney Pickens Holt)
J.T. Holt (Jesse Thomas Holt) second marriage to "Addie" (Ara Adney) spelling? Pickens Holt in 1874. "Addie" the daughter of A.L. (Andrew Lauderdale) Pickens and Martha Stedham Pickens all natives of Fayette County Tennessee. Who moved to Bingen, Hempstead County AR in 1851 and later to Lockesburg, Sevier County AR. Where Mrs. Pickens died still survived by husband 73 years old (1890).
Loucretia Creath was the grandmother of Harriet Cole Gregory Holt. She Creath lived at Southhill, Virginia in Mecklenburg County -, born 1816, Harriet Cole Gregory Holt (Mrs Jesse Washington Holt) he born 1810 came to AR from Wilson County Tennessee and settled at Mine Creak Township in Hempstead Co. Southeast of Bingen, AR.
Page 4
Holts are buried in cemetery at Nashville, AR and Holt & Pickens ancestors at Belleville, AR. Cemetery near Bingen and Lockesburg AR, cemetery in Sevier County, AR.
O.N. Lee parents buried at Washington, AR cemetery also Lee Holt buried at Washington, Cemetery AR who are William Franklin Lee and Beatrice Hicks Swan Lee. Says "Beatrice Hicks" on marker there and W.F. Lee.
Sister of Lena was Mattie (Martha Cole) Holt Hutchinson & is buried at Denver, Colorado.
Kathryn Holt Stevens –niece of Lena dau. Lee Holt, was buried at Grand Rapids, Michigan 1969. She was Mrs. Ward Stevens.
End of pages numbered 1-4
Page 1
great grandfather of Lena Holt Lee (maternal) was John Gregory born Mecklenburg County VA. Reared & married there. When Mrs. Holt was 3 yrs old he moved to Wilson County Tennessee., school teacher killed in 1820 being thrown from a horse.
Richard Gregory, father of John Gregory and great-great grandfather of Lena Holt Lee was of Scotch descent and a Virginian.
Mrs. Holt's (the grandmother of Lena Holt Lee) maternal grandfather was born on the Atlantic Ocean while parents were enroute from Dublin, Ireland to Nova Scotia in 1786. He married in Virginia and was a Missionary Baptist Minister.
His parents Samuel and Lecran Creath natives of Dublin, Ireland.
Page 2
Samuel Creath was a soldier in the Revolutionary War. After coming to America. At the breaking out of the war he was living in Nova Scotia and declared himself friend of the Colonists & for that was dragged to Halifax and imprisoned for seven years.
Hon. J.T. (Jesse Thomas) Holt, father of Lena Holt Lee also lived at Nashville, AR., in Howard County moving there from Bingen, AR. In a circle crossed out in Sevier County, below Lockesburg AR with a ?
1830 Creaths-Elder Thomas B. Creath, Sussex County, Parkam Store P.O. Virginia 1830 Joseph W.D. Creath, Mecklenburg Co., Southhill, VA.
Mrs. Eliza H. Fennell (Dr. Fennell) Jane and Melancthon
Page 3
These Creaths were mentioned in letter written 1830 by the grandmother Lucretias Creath to her granddaughter Harriet Cole Gregory Holt – who is grandmother of Lena Holt. I think they are her children-
"Addie" Holt Mrs. Jesse Thomas Holt had an Uncle Israel Pickens in Tennessee.
Lena Holt Lee was the 13th child of 14 children of J.T. and "Addie" (Ara Adney) Holt.
Lee, Mattie, David, Zea, Lena, Willie the second set of children of J.T. Holt.
J.T. Holt married a third wife, Mary Webb and died soon afterwards in 1917. Probably May 9th.
Page Not Numbered
Oliver Newton Lee Jr. born Nov. 12, 1908 Little Rock AR
Oliver Newton Lee, Sr. born Arkabutla, Mississippi Sept 3, 1877, d. July 6, 1964
Beatrice Hicks (Swan) Sept 1, 1858 died July 15, 1899
William Franklin Lee born Pickens Co. AL Nov. 23, 1855 July 3, 1929
Dr. Peter G. Lee father of William Franklin Lee
William Franklin Lee ? was the great grandfather Oliver Lee Sr.
Wife of Oliver Newton Lee, Jr. is Mary Bishop Lee born Oct. 2, 1915
Myrtle Masters Bishop her mother

Zea Holt Jacobson's Obit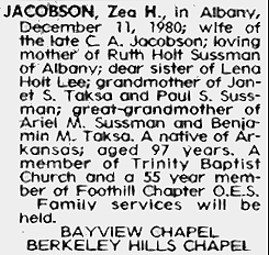 Links
Civil War 1861-1865
-
620,000 died, 3 million fought and 50,000 were amputees
www.civil-war.net
www.civilwar.com
Civil War Soldiers & Sailor System
www.itd.nps.gov/cwss

Lee
This famous name recorded as Lee, Lees, Lea, Leas, Lease and Leese is of Olde English origin. It is usually locational and derives from any of the places named with the pre 7th Century element "leah". This translates as "an open place" in a forest or wood, but may describe a water meadow, the word having different meanings in different parts of the country.

Examples of the place names include Lee in Buckinghamshire and Hampshire, and also Lea in Cheshire, Lincolnshire and Wiltshire.

The name may also be topographical, for someone who lived at a clearing or pasture, as in the surname 'Atlee'. The name is one of the earliest recorded (see below) and early examples include Turqod de la Lea, in the 1193 Pipe Rolls of Warwickshire, Roger de Lees of Norfolk and Richard de la Lee in the 1272 Hundred Rolls of Wiltshire, whilst Robert Leese is recorded in the Wills Register of the county of Cheshire in 1593.

Examples from church registers include John Lee, who married Agnes Masset in London in 1550, and Anne Lease, a widow, who married William Sulham also in London in 1577. Sir Henry Lee (1530 - 1610) was master of the ordnance and personal champion to Queen Elizabeth from 1559 to 1590, when his son took over the position.

The first recorded spelling of the family name is shown to be that of Ailric de la Leie, which was dated circa 1148, in the "Charters of Northamptonshire", during the reign of King Stephen, known as "Count of Blois", 1135 - 1154.

Surnames became necessary when governments introduced personal taxation. In England this was known as Poll Tax. Throughout the centuries, surnames in every country have continued to "develop" often leading to astonishing variants of the original spelling.
Source: Lee
[Lee] [Bishop] [Holt] [Masters]