The Author and Cook of these Recipes


....No I was not cooking at the time nor is this our fire station....notice the real fire fighter without protection...fighting the fire.
---
Firefighters Recipe website Everyone knows firefighters make great cooks, here you will find easy to prepare and tasteful recipes created by firefighters world wide.

FIREMAN ENCHILADAs (Casserole Style) by D.R. "Doc" Young "for the fire fighter on the go"
18 fresh corn tortillas (do not cook) be sure to smell before buying
1 - (16 oz.) can enchilada sauce (how hot and what brand is up to you)
1 - (8 oz.) can of El Paso tomato sauce
1 - medium size onion of your choice, chopped
1 - (12 oz.) can of olives (sliced) (black, green or both)
3 lb. of cheese (yellow) grated (do not buy 3 lb. of grated cheese)
2 lb. of beef or chicken
2 - (16 oz.) cans of frijoles (beans)
Preheat oven to 350 degrees. Combine sauces and heat to near boiling, simmer while cooking meat of your choice, add onion and drain meat when done. Drain olives and set aside. Grate cheese and set aside.
Take a casserole dish (big enough) pour 2 cups of sauce into dish and spread evenly. Dip 6 of those fresh tortillas in remaining sauce (1 at a time) and layer flat in dish. The foundation for this great dish has now begun. Next sprinkle half of the meat evenly; Season (salt/pepper), sprinkle half of the olives and about 1/3 of the cheese.
Dip 6 more tortillas in sauce, layer, sprinkle remaining meat, season, sprinkle remaining olives and 1/3 of remaining cheese (save some for the ).
Dip remaining 6 tortillas in sauce, layer, pour remaining sauce evenly over and sprinkle the remaining cheese evenly. Bake uncovered for 20-30 minutes or until heated through.
Take frijoles (beans) place in saucepan or glass dish and heat either on of stove or in the oven. Do not place saucepan in the oven. The handle tends to get soft. Sprinkle with cheese if you haven't already eaten it all while grating.
Remember to turn off the oven and stove or you will have several firemen over for dinner. But that's OK!, you have just made plenty unless you have a family of 12. Once you have made this dish, the next time it will be faster. You actually save time by not having to roll each tortilla or cook the tortillas and no oil was used.
Enjoy, Amigos and Amigas!

EL RANCHO BURRITOS
Flour tortillas (large) as many as you can eat
2 - (12 oz.) cans of El Rancho beans with jalapenos (for sissies use El Rancho beans without jalapenos, not the bar-b-que beans, pinto)
1 to 1 1/2 lb. hamburger
1/2 onion (chopped)
1 lb. of cheese (yellow) grated
Frijoles of your choice
Cook hamburger with chopped onion, drain. Heat and drain beans. Combine meat and beans. Keep warm. Heat tortillas, add ingredients, sprinkle cheese and roll (you can tuck ends in, if you have had previous experience). If you have a microwave oven this is great for heating of tortillas and burritos after they are made. Sprinkle cheese and/or any salsa you wish on . You may also add the frijoles if you like or just simply heat and serve.

Mexican Corn Dogs
Pan Fry/Grill all Beef Hotdogs or Dogs of choice - I prefer to split and pan fry.

Optional add cheese

Deep fry corn tortillas lightly, so they remain soft. Blot dry of oil or lay out on paper towels

Lightly butter tortilla (optional)

Lay grilled/pan fried hotdog in tortilla

Garnish as you would a regular hotdog in a bun

Roll the tortilla as you would an enchilada or burrito
Enjoy! And how about a Mexican Hotdog Quesadilla!? Try other meats too!

NACHOS! From Scratch
1/2 lb. cheese (yellow)
1/2 lb. cheese (white)
1 can of jalapenos
1 doz. fresh corn tortillas (smell first before buying)
Corn Oil (for frying tortillas)
Slice tortillas into 4s or wedges like pie slices. Fry in oil until golden brown or hard, and lay on drain grill or paper towels to dry. Slice cheese (into about the same size as wedges). Slice jalapenos or buy already sliced.
Take cookie sheet or other flat cooking utensil and place tortilla wedges evenly on cookie sheet. Next place cheese (alternate white and yellow) on each tortilla wedge. Now, for the gusto! place the jalapenos sliced upon each wedge. Now heat in oven at 350 degrees. until cheese melts and serve hot. For those who cannot handle mouth on fire, simply leave off the jalapenos.
Or if you wish, grate cheeses over store bought tortilla chips of choice, add jalapenos and heat in microwave or bake in oven.
Or you can take the easy way out
Deep Fry wedged shaped corn tortilla's from fresh tortillas and drain

Cook your choice of meat

Chop and cook with meat onion

Slice cheese of choice shown is Colby Jack, no need to shred, its going to melt in the oven

Use Taco Seasoning in your meat (optional), I do not like it

Add Green Chilies, olives or other garnish

Shown refried frijoles (I prefer original)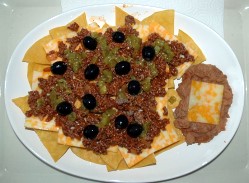 Or Try Nacho's another way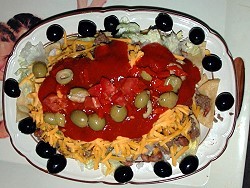 Deep Fry wedged shaped corn tortilla's from fresh tortillas and drain

Cook your choice of meat

Chop and cook with meat onion

I love to use Pinto Beans (optional)

Graded Cheese of your Choice, I use Medium Cheddar

Lettuce fresh, washed and hand torn

Taco Sauce your brand
Place tortilla chips, layer meat and beans (should be hot), lettuce, add cheese, sauce and garnish with olives as shown or add your own cooked green chili peppers or jalapenos.

SHREDDED WHEAT MEAT LOAF
3 or 4 lb. of hamburger (depending on the size of your family)
1 bottle of chili sauce (Del Monte's if your store has it)
1/2 cup of Ketchup or Catsup depending on where you are from)


1/2 onion of your choice, chopped
1 box of shredded wheat cereal (biscuit size not bite)
2 eggs (chicken of course)
Mix chili Sauce and ketchup and set aside. In a large mixing bowl, combine hamburger, 3/4 of sauce, onion, eggs. Crumble by hand about 4 shredded wheat biscuits into the bowl

(did you forget to wash your hands?). Now take those clean hands and mash all those ingredients together. Place this bundle of meat into a casserole dish (large enough) and shape (this is where you can get creative) into any design you like. ie. Heart shape. Most people shape it like a loaf of bread, hence the name "Meat Loaf. Once this has been accomplished, bake in the oven for about 1 1/2 hour at 350 degrees. At this time leave the oven on, remove your creation and drain any grease. Take the remaining sauce, smooth over the and continue to bake for another 15 minutes. Serve with your favorite veggies and potato dish.

NO FRILLS POTATO SALAD
6 medium potatoes (russets)
4 eggs (hard boiled)
1 tsp. mustard
Mayonnaise (please no Miracle Whip, yuk!)
1/2 onion (chopped)
Lawry's seasoning salt
Pepper if you like it
Peel, slice into small chunks, and boil potatoes until tender, not too soft and not too hard. We do not want mashed or rock potatoes to chew or as some call potato surprise. Please, drain and save water to boil eggs. I have been known to boil eggs at the same time along with the potatoes. This saves energy. And you can save the water to add to your dogs dry food or water plants.
Slice eggs and add to potatoes. Oh! you haven't been doing this without a bowl have you. Place in bowl do not stir yet. Add 1 teaspoon of mustard and chopped onion, slowly add mayonnaise, stirring gently. Do not add too much mayonnaise, but just enough until it stirs freely. Sprinkle Lawry's seasoning salt over , Pepper if like it and place in refrigerator until cooled. Serve and Enjoy!
This recipe yields 3 days worth of yummy potato salad for myself, if having a family BBQ, add more potatoes, mayonnaise, onion etc. At least one potato and one egg per two people, unless they do not like potato salad, more for you and family.

STEAK A LA GUSTO!
Spencer steak (please no cheap imitations)
1/2 can of beer
6 oz. of soy sauce
Do nothing to the steak except marinate it in a 50/50 mixture of soy sauce and beer (your favorite or a cheap brand) for about 1-2 hours depending if you can wait that long. Now bar-b-que until done for your taste. For children use near-beer. Please do not eat and drive. Try my "No Frills Potato Salad".

SHISH KEBAB (Bar-B-Que)
1 to 2 lbs. of meat (steak or roast)
2 onions
1 or 2 green peppers


Carrots
Potatoes
Teriyaki sauce
4 skewers (type depends if cooking on grill or in broiler)
Marinate meat (either whole or cut) in teriyaki sauce for 1 hour. Cut meat into 2 inch squares. Cut carrots into 2 inch lengths. Cut potatoes and pepper the same as the meat. Cut the onions into slices (like an apple). For tender vegetables precook them first. Take skewers slide alternating meat and vegetables.
Season with salt and pepper. You may either wrap skewers in foil and bar-b-que or leave unwrapped and rotisserie on a spit over the bar-b-que.
You may use the canned white potatoes if you prefer and also marinate in different types of sauces. If too windy outside, broil in oven, use skewers designed for oven/broiler use without wooden handles.

NO MESS ROAST
2-3 lb. roast
Oven browning bags (big enough for the roast)
2 Tbsp. of flour
1 can of cream of mushroom soup or 2 cans of beef broth
1 or 2 onions
Carrots
2-4 potatoes
1/2 cup Of milk (for cream of mushroom)

Brown meat, place flour in bag and shake to coat bag. Slice carrots, onion and potatoes, set aside. Have you decided if you want cream of mushroom soup or beef broth? Good, now use a roasting pan or cake pan, place bag in it and insert meat (inside bag) pour in soup, add milk. Or use broth instead (please do not mix both). Use twist locks provided to seal bag, remember this is a no mess roast. Perforate of bag with 3 (1/2 inch) slits (so the bag won't explode and make a mess).
Set oven to 375 – 400 degrees. Do No Exceed recommended bag temperature. Bake for 2 - 2 1/2 hours. Remove from oven and gently open bag (steam in it is hot) at and serve. Save juices for gravy if you know how from scratch.

QUICK AND EASY TACO'S
Cook your desired meat with onion if desired and drain.
Parmesan Cheese to be sprinkled as desired
Wooden Toothpicks
Take corn tortillas (smell for corn freshness) place the cooked meat inside, fold and hold closed with tongs as you fry in corn oil deep enough for one side of the folded tortilla to lay in, sometimes you can use a toothpick to hold it together. Lightly fry on one side until just a little crisp and then on the other side. With tongs you can flip one way for a while and then the other. With toothpicks you can place several in the pan of oil at once (depending on size of pan). Place taco's in a taco rack to drain or on paper towels with a end higher for excess oil to drain out.
Pull toothpick, spread taco gently, sprinkle Parmesan cheese, add hot sauce if you can handle it or your favorite seasoning, add shredded/hand torn lettuce and begin to eat.

Doc's Incredible Chili not for the weak (sissies)
2-5 pounds chuck blade steak or your favorite meat (mine is Ribeye), no not your wife's thigh.


1/2 cup vegetable oil or 30 wt. motor oil if you are a Redneck or just plain dumb.


2 chopped onions - the kind that make a grown man cry


4 medium green bell peppers, chopped or Pepperoncini peppers....save some for the table in a bowl


1- 1/2 pounds ripe tomatoes


8 garlic cloves, minced - for Dragon Breath add more cloves


8 ounces tomato paste - have another can on hand in case your ripe tomatoes lack flavor


1/2 cup chili powder - if you are Macho, a pinch or two of Cayenne Pepper, had a few beers, then pinch away


1/8 cup sugar - you can substitute with brown sugar, the darker the better


1 tablespoons salt - optional for you can always salt when eatin, depending if you have any taste buds left.


1 tablespoons oregano (preferably Mexican oregano)


1 tablespoons ground black pepper - please ground first pepper seed


Your choice here if you are want'n beans kidney, pinto or a blend of beans. I prefer Olde Country Blends Fiesta Mexican Style (prepare the day before & make sure it is the consistency not to water down your chili) it comes with Tabasco Sauce, optional to add.....your mouth or young'ns may not be able to handle it.....


Optional 2.5 gal. pressurized water fire extinguisher or a pool, lake or stream near by......please no Jacuzzi's
Cut steak into 1/2-inch cubes.
In a very large skillet or Dutch oven, if you do not know what a Dutch oven is don't ask, brown the meat in oil, remove to a bowl and set aside. Add onions, peppers and garlic to drippings in pan over medium heat. Cook for 10 minutes, stirring occasionally. Add more oil if necessary.
Return the meat to the pan make sure you have all fingers on both hands, this is where you do not need to make national TV like some folks in the restaurant business do, then add tomatoes and their liquid, the remaining ingredients if you can remember after a pitcher of Margarita's or a case of Beer.
Heat to boiling which if you never knew is 212°F or if you are into that celsius crap, then 100°C. Reduce heat to low, cover and simmer 1-1/2 hours or until meat is fork tender, stirring occasionally if you are still standing by now.

Crock-Pot Roast Beef
3 to 4 potatoes, pared, cut in half length wise and quarter length wise and then about 1 inch thick

2 to 3 carrots, pared and slice in half and then 1 inch in length

1 to 2 medium onions, peeled and quartered

3-4 stalks of celery

Beef Broth (enough to cover roast and vegetables) I use Swanson in the box, buy 2 boxes.

3 to 4 lb. or 5 to 6 lb. pot or chuck roast (depending on size of family and of course the crock-pot)

Optional, canned or fresh peas, green beans, corn, etc.

Optional, 1 1/2 tsp. salt

Optional, 1/4 tsp. pepper
You have a choice on how to crock/cook your beef.
Place roast in crock-pot and add enough beef broth to cover, simmer on low 6-8 hours depending on size of roast.


Roll roast in flour and brown both sides in skillet (1-2 tbsp of cooking oil) and add enough beef broth to cover, simmer on low 6-8
For the watched crock…add beef broth and roast. Simmer low for 6 hours. After 6 hours, add potatoes, carrots, celery and onions and simmer another 2-4 hours. Before serving, add optional canned or fresh vegetables. Allow to heat through or until tender for fresh vegetables.
Or if on the go…add beef broth, roast, potatoes, carrots, celery and onion…simmer 6-8 hours. When ready to eat and while setting the table, add optional canned or fresh vegetables. Allow to heat through or until tender for fresh vegetables.
Salt and pepper to taste…as my mother used to say, taste it first before salting and adding pepper. And eat all of your vegetables, so if you have those who do like certain vegetables, leave those out.
If you prefer and in a hurry…crock on high for 4-6 hours. Or, cook veggies separate, and add to an already cooked Spoon Roast. It does not get any better than that.

My Ultimate Hot Dog

Coming Soon
Onion Omelet and The Blue Berry Pancake or Rasberry